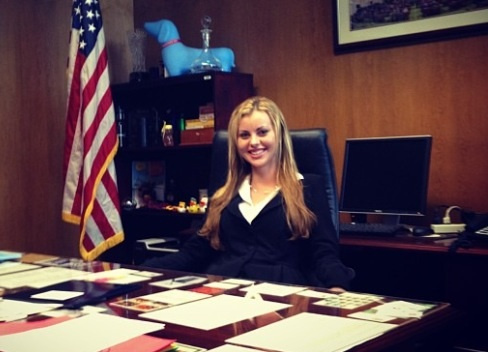 Jessica Mendes entered the porn industry at the age of eighteen and adopted the porn name of "Jessie Rogers." She left one and a half years later after many abusive and harmful experiences, including suffering a severe injury and contracting herpes. Jessica then spoke out and testified in favor of mandatory use of condoms in pornography. (With the AIDS Healthcare Foundation.)
Jessica helps to educate the public about the harms of pornography through her work as a volunteer for AntiPornography.org -- via YouTube videos, her written story, and in interviews and speeches. (Scroll down to check out examples of all of these, available on this page.)
Jessica is also rebuilding her life and health: she is currently a straight-A college student studying nutrition, and is considering going on to medical school when she graduates. In the meantime, Jessica will soon be getting her Personal Trainer's Certificate, so she can earn income and help others get fit. Jessica is also a proud vegan and animal lover who loves her sweet dog Brownie, and she promotes living a positive and healthy lifestyle.
NOTE: If you'd like to leave positive feedback for Jessica, please do so in the comments sections of her anti-porn videos at YouTube on our channels. (The videos are embedded below, and we have provided their URLs so you can easily go to YouTube and comment.) Or you can leave feedback anonymously on our Positive Feedback page below. Thanks! :-)
If you'd like to read some very moving and heartfelt positive feedback for Jessica that has been shared by others, that describes how Jessica's anti-porn work with us has informed and inspired them, including getting some people to quit using porn, or has changed their lives for the better in other ways, please feel free to check out our page with that content below.
http://www.antipornography.org/Jessica-Mendes-positive-feedback-and-results.html
~~~~~~~~~~~~~~~~~~~~~
*** JESSICA AND HER ADORABLE DOG BROWNIE ***
~~~~~~~~~~~~~~~~~~~~~
"Girls I've talked to in the porn industry have told me they got hurt by an ex boyfriend, were adopted, never felt loved by family, or had an absent mom or dad. So porn became their "revenge", or the thing which would make them think they are becoming empowered, when they are actually very weak and broken inside."
~ Jessica Mendes
~~~~~~~~~~~~~~~~~~~~~
PLEASE SUPPORT JESSICA AND HER IMPORTANT WORK OF SPEAKING OUT ABOUT HER EXPERIENCES AND THE HARMS OF PORNOGRAPHY -- IN ORDER PREVENT OTHER YOUNG WOMEN FROM ENDING UP ABUSED AND EXPLOITED IN THE DANGEROUS AND TOXIC SEX INDUSTRY.
ALL DONATIONS ARE MUCH NEEDED, APPRECIATED, AND ARE FULLY TAX-DEDUCTIBLE. THANKS!
~~~~~~~~~~~~~~~~~~~~~
JESSICA AT THE CALIFORNIA SENATE, TESTIFYING ABOUT UNSAFE CONDITIONS IN THE PORN INDUSTRY
~~~~~~~~~~~~~~~~~~~~~
VIDEO AND AUDIO SPEECHES, INTERVIEWS AND DISCUSSIONS
~~~~~~~~~~~~~~~~~~~~~
Jessica Mendes Exposes Shocking Abuses of the Porn Industry & Tells Her Story (Ex Porn Star "Jessie Rogers.")
VIDEO URL: http://youtu.be/ymWVWHOgDFM
TEXT OF THE ABOVE SPEECH:
http://www.antipornography.org/ex-porn-star-jessie-rogers-exposes-shocking-abuse.html
~~~~~~~~~~~~~~~~~~~~~
2 Ex Porn Stars' Message to Women Considering Doing Porn:
Jessica Mendes & Vanessa Belmond Expose All
VIDEO URL: http://youtu.be/LxICDTw1CmM
~~~~~~~~~~~~~~~~~~~~~
Two Ex Porn Stars Say Working In Porn Is a Dead End Trip to Nowhere. Jessica Mendes & Vanessa Belmond
VIDEO URL: http://youtu.be/AIvj2ib6Qs0
~~~~~~~~~~~~~~~~~~~~~
Interview with Jessica Mendes (Formerly known as porn performer "Jessie Rogers.") - With Craig Perra, Founder of The Mindful Habit
~~~~~~~~~~~~~~~~~~~~~
Interview of Jessica Mendes by David Swanson of SwanSong Radio - Aired May 2014 -- (Ex Porn Performer "Jessie Rogers")
~~~~~~~~~~~~~~~~~~~~~
Interview of Jessica Mendes by Lana Reid, for Lana's TalkZone.com Radio Show, Don't Box Me In -- (Ex Porn Star "Jessie Rogers")
April 30, 2014